/
NEWS FROM THE
.
Christmas Promo offer!
10% off all products using the following coupon code 'Christmas_discount'
Add this code at checkout to claim your 10% store-wide discount.
Offer ends 9/1/2011 GMT
Merry Christmas to all!
.
We need you!
We are looking for gamers to play test elements of a future Brutal supplement, 'the Bloodied, Bruised & Broken'. If you are interested please visit our forums for more information.
.
New Fighter Class undergoing testing
.
GAME DEMO
We shall be playing game demos at the following:
National Association Church &Oswaldtwistle Club,
Mill Hill,
Oswaldtwistle,
BB5 3LX.
The Gaming Day is on 4th July and starts at 12pm.
If you are local and you want to see what Brutal is all about then pay us a visit so we can have a clash of swords, axes, heads, teeth and pointy sticks!
.
NEW BRUTAL RELEASES
roll up roll up, get your cyborg gladiators here!
We have now released three new Brutal minis for our range.
1x Breaker, 1x Piercer & 1x Stinger
All miniatures come supplied with a Brtual themed resin base.
Not only that, we are now selling 'vs' packs.
Breaker vs Di-sector pack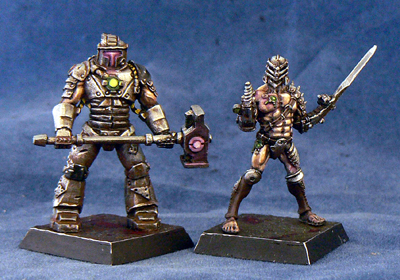 Deflector vs Piercer pack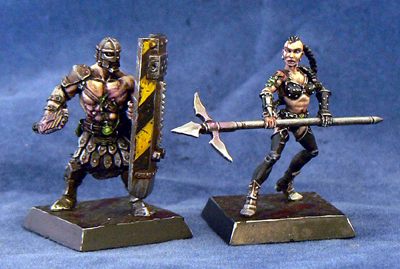 In-capacitator vs Stinger pack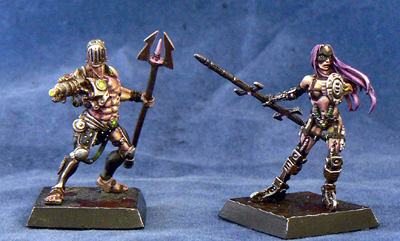 Prices
Each single 32mm miniature £6.95p
Each vs pack £12.50p
Thanks for looking!
.
Latest game demo at Warrior Bazzarr 10
Our demo went well and we gained more interest about the game.
More pics can be found on our forum. follow link below for more info
http://forum.darkartminiatures.com/showthread.php?t=820&page=2
.
Limited game pack deal sold out!
A huge thanks to everyone who bought the limited game offer.
Sorry for those who just missed out on the deal. You can still purchase the game packs and miniatures normally from our store.
We salute you!
.
Hi all! Just thought I'd let you all know that we are currently working on a pre-made arena game board. We realise that having to print out your own may be off-putting so we shall be working on getting one manufactured due to everyones interest.
Also
We only have 2 more limited edition game deals left! Read below for more info.
Cheers all!
Klaus
\
Brutal has opened its grungy arena doors to the viewing public! That's right. We have finally released our Beta rule-set for Brutal along with this website dedicated to the brutal sport.
Now you can fight in a battle of wits, cunning and courage as you let the crowd decide your fate.
FREE RULES & DOWNLOADS
The rules and other free gaming content can be downloaded from HERE
FREE LIMITED EDITION T-SHIRT
We are giving out a free limited edition t-shirt to the first 25 customers that purchase our special 'Brutal game-pack deal'
GAME PACK DEAL
Visit our store for more information HERE
Game components can be purchased as a non profit product from our store.
The first four miniatures from the Brutal miniature line are now for sale from our store.
.
"Laaaaaaaadies and Gentlemen. Tonight's sold out grudge match event coming LIVE from Free-fall city brings you the first of our two Brutal fighters. Rising on platform 1 we have a True Human Bruiser weighing in at 120lbs and fighting out of Ludus 'torment' under the watchful eye of Lanista Rezner. We bring you the giver of pain, the bane of demons, the War-breed champion two years running, the Swift kill #5 world champion AND world record swift kill holder, TORRRENTIAAAAAAA!"
–Brutal commentator Rough-neck Sonux